We are delighted to announce that Helmuth Köcher and the entire team at The WineHunter have awarded our company the EXCELLENCE DIPLOMA THE WINEHUNTER AWARD for our exceptional commitment to producing high-quality wines.
The awarded wine was our Piandeifiori, a Bianchello Del Metauro DOC Superiore from the 2017 vintage. This vintage has proven to be an authentic oenological masterpiece, achieving this recognition thanks to its fresh and fruity aroma and its smooth and substantial taste.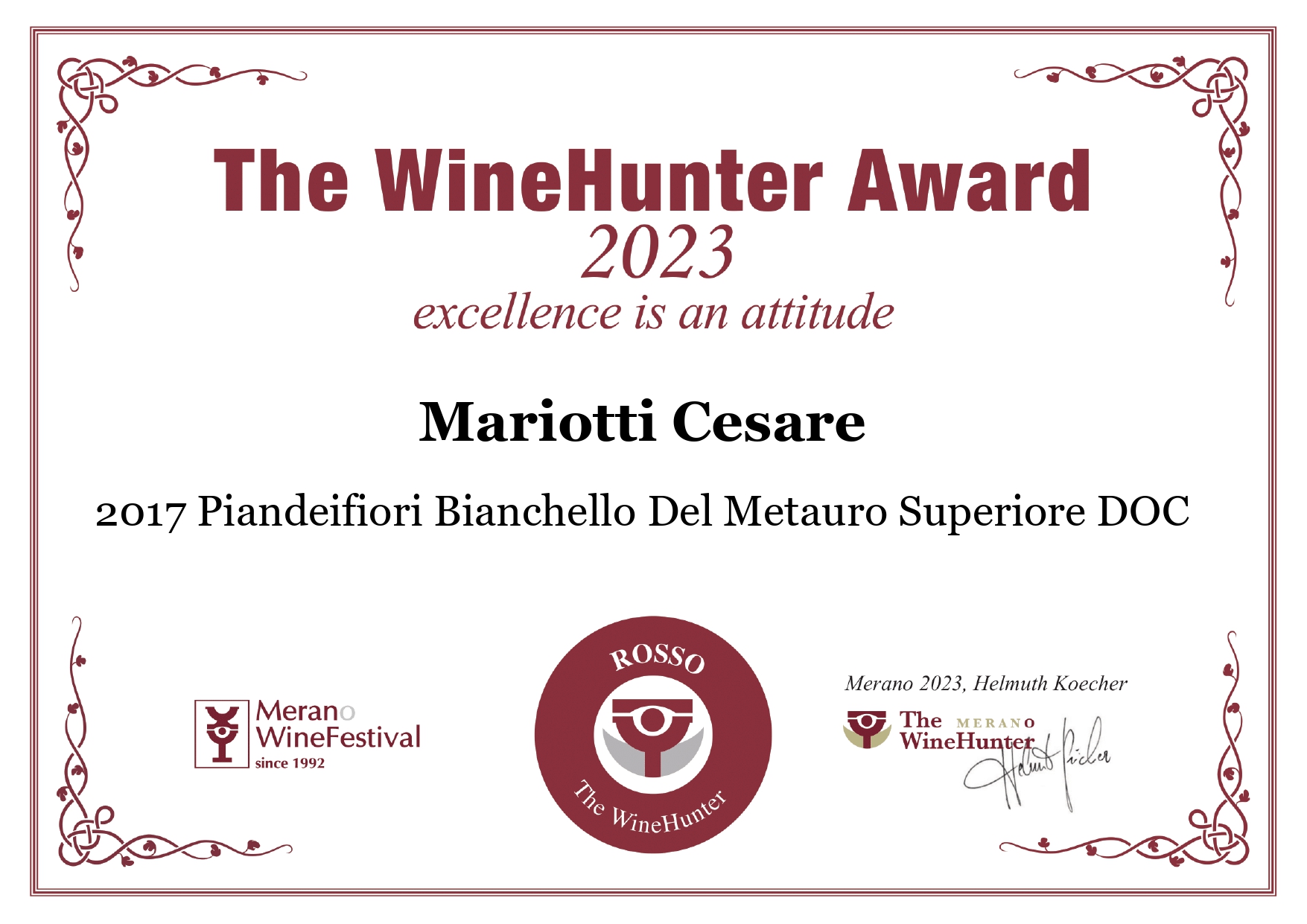 We are thrilled to announce that one of our more valuable wine lable, Osterosso, has made its mark on the international stage at the prestigious '50 Great Red Wines' competition.
The efforts and passion we invest in crafting our wine have truly paid off with this significant achievement. Osterosso is the result of an accurate vineyard care and a meticulous winemaking process. Its complexity of aromas, its fruity scents and its slightly soft taste have captured the discerning tastes of the expert judges who participated in this renowned competition.
The silver medal secured at the '50 Great Red Wines' competition is a testament to the exceptional quality of Osterosso and its rightful place among the finest red wines globally. This recognition fuels our commitment to pursuing excellence in producing exquisite wines and sharing ever more memorable tasting experiences with you.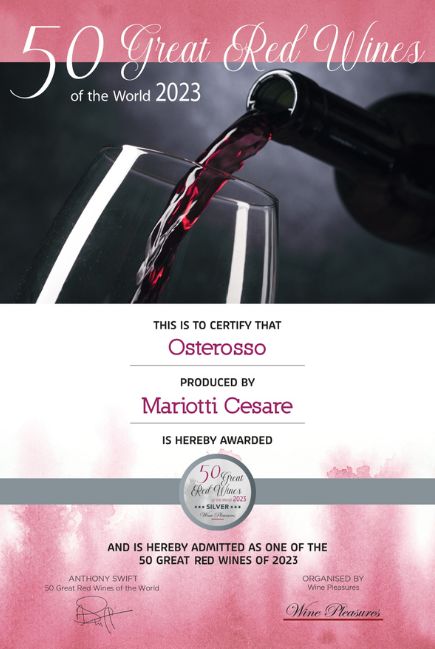 We are proud to announce that our BIANCHELLO DEL METAURO SUPERIORE PIANDEIFIORI 2018 has been awarded and published in the "Le Marche nel Bicchiere 2023 edition guide".
The Italian Association of Sommelier Marche complies this local wine-guide book, so they gave us a honorable merit by including our Piandeifiori in the excellences of Marche region page.
Following this success, will be held on november 27th 2022 at 17:00, the official presentation of the guide book. It takes place in Mole Vanvitelliana of Ancona, where, in the presence of regional and local authorities, the press and AIS Marche representatives, diplomas will be given to award wines of excellence and favourable price-quality wines.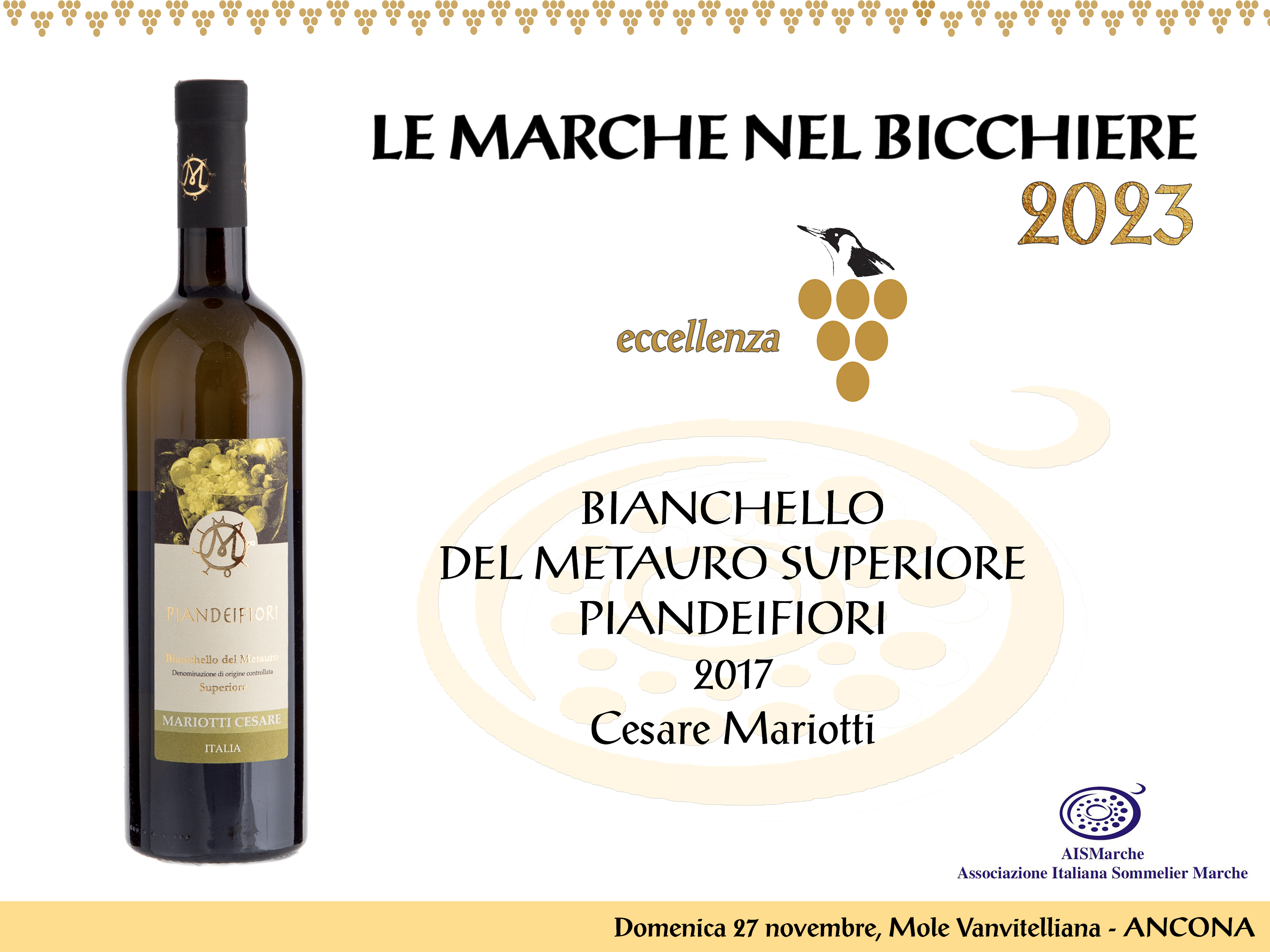 Daniele Cernilli, well known as DoctorWine, is an international famous journalist and critic of enological products that along with his team of experienced wine tasters is always looking for wine excellencies to be published in his Essential Wine of Italy Guide.
For 2023-year guide, one of the wine lables analized together with other 3085 produced by more than a thousand of wine companies was "Piandeifiori", obtaining a score of 95/100.
For those not familiar with "Piandeifiori", it is a Bianchello del Metauro DOC Superiore with a straw yellow color and greenish reflections. It tastes soft and elegant at the same time: this makes the wine a perfect match for pasta dishes, white meat, seafood and aged cheese.
Its production complexity begins from harvest, where the best grapes are manually selected in the historic vineyards of the farm during a late vintage.
The procedures to get the final products are very accurate and long, as the wine ages almost three years in barrels and 6 moths in bottle before selling.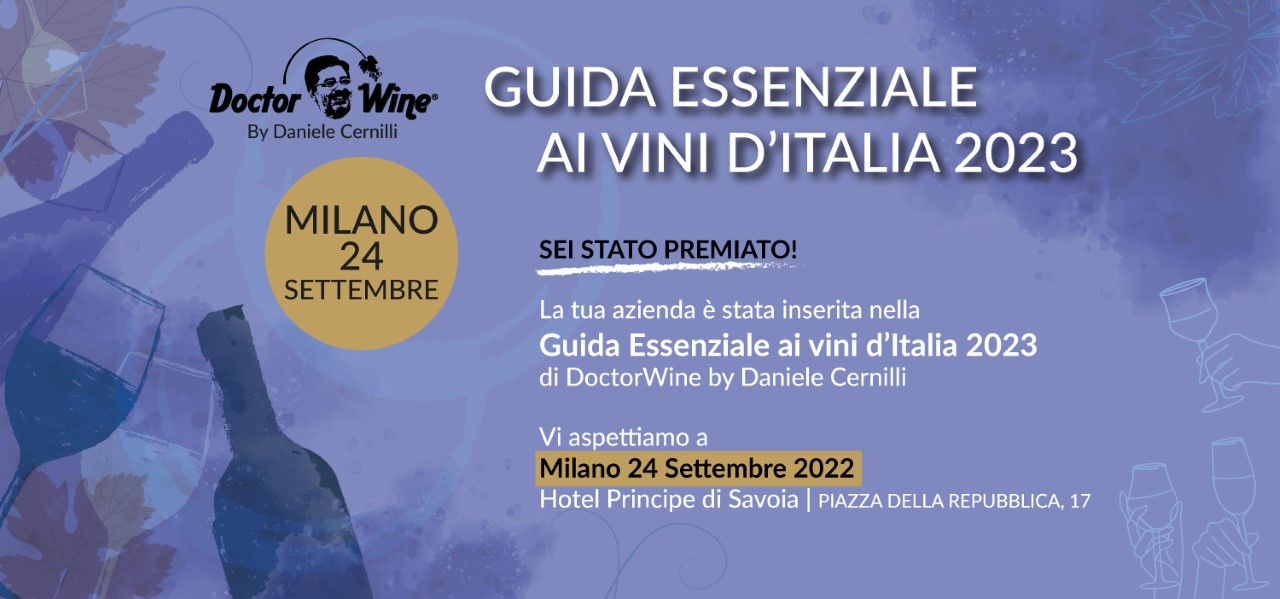 Wine Pleasures, an international organization leader in wine poducts promotion, has launched in 2022 the first edition of "50 great red wines of the world competition". This at the purpose of awarding excellences beetween the best red wine producers of the world.
Mariotti farm, as a competitor of this first edition, is proud to announce his silver medal. The awarded wine lable evaluated as one of the best 50 red wine of the world is "Acanto". This excellence is one of the most refined and complex in its production: it is characterized by its ruby red colour tinged with violet, with an ageing of 50% in stainless stell barrels and 50% in oak barrels for 24/36 moths followed by in-bottle ageing for additional 6 months.
This lable is very demanded by our customers, ideal both as "meditation wine" both as a paring to meat dishes. It remains persisten with soft tannins.
We are all so proud of this outcome, the result of a work of 3 generations and our passion that led us to use numerous innovative techniques.
For more information related to the well awarded red wine "Acanto" and other wine excellences produced by our winery, we invite you to visit the "products page" of our website.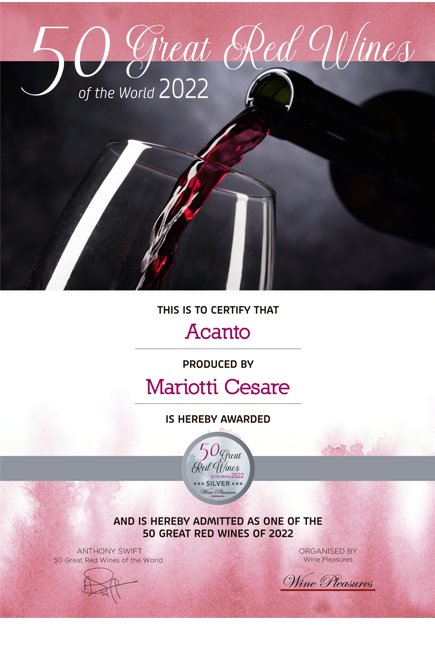 The main characters of Donnavventura TV show, visit Mariotti Farm along side with Channel 4 cameras, in order to discover one of the finest product of Marche region:
Bianchello del Metauro Wine.
As they arrived in the Cellar, they met Mr
Giuseppe Cristini
, an expert and passionated of local products, who rewards the Bianchello Wine describing all its qualities and features.
Once again, Mariotti Farm is promoting the valuable products of our land: The Marche region
Mariotti farm is pleased to announce that the organization along with other estimated Bianchello d'Autore producers has been featured in the National TV show, "Linea Verde", aired sunday december 2nd on Rai 1.
In the episode Federico Quaranta highlights the excellence and the importance of our wine: Bianchello del Metauro DOC


Rio De Janeiro
Mariotti's farm is proud to announce its partecipation at the contemporary art exhibition "Rio De Janeiro" by the italo-brazilian artist Flaminia Mantegazza at the embassy of Brazil in London.
Our products have been selected as the official sponsor of the show offering an unique wine tasting experience during the opening day friday 23 september 2016.
"Azienda Agricola Mariotti" leader in farming industry since 1930 invest in the future of our land by promoting local products, art and culture.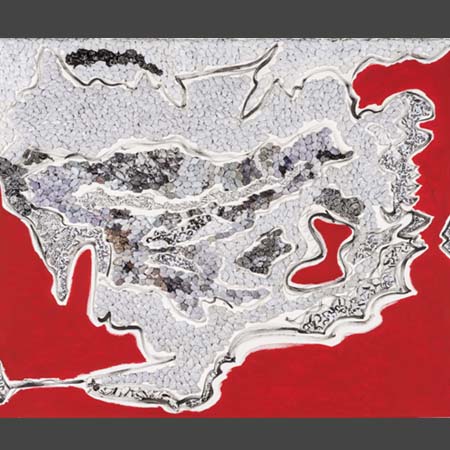 by FLAMINIA MANTEGAZZA
Curated by Damiana Enea
FRIDAY | 23 SEPTEMBER | 6-8.30 PM | SALA BRASIL
Exploring the theme "Feeding the Planet, Energy for Life" for six months, "EXPO Milano 2015" was held northwest of the center of Milan. The exposition site covered 110 hectares (272 acres) and was expected to attract more than 20 million visitors from 01 May 2015 to 31 October 2015. Our products took a chance to join this important exposition representing Marche's regional food. By promoting our local products including "PIANDEIFIORI" (Bianchello del Metauro) and "CINABRO" (Colli Pesaresi Sangiovese) we invested in the future of our land.

Poggioterso takes the prize
Marche Bianco IGT "Poggioterso" 2012
Winner at the National Wine Competition "Bollino dell'Enohobby" 2014 edition.